Optional add-ons.

We can offer a number of different optional add-ons, in order to differentiate the visible appearance of the tweeter.

1. DIAMETER
The standard diameter of all OW types is 94 mm, featuring 3 holes for assembly in the flange as part of the basic molded front part. These holes are centered on the dividing diameter 82,5mm and spaced in 120 degree. These 3 holes can not be cancelled.
We can however (in our in-house workshop lathe) cut down the diameter to say 92mm or less (not smaller than °68mm, as this is the diameter of the body itself). The area in which the 3 holes brakes the front is of course a poor area to cut a new diameter, as if placed within the holes area, there will be 3 cuts in the flange edge, which does not look pretty.

2. HOLES
The 3 holes in the front flange of the tweeter can be accompanied by for instance yet another 3 holes in between the first 3, or placed anywhere you like on the same dividing circle as the 3 basic holes.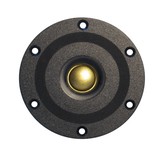 a. This will give the tweeter a different appearance, and/or...
b. ...3 more holes will in certain cases by an advantage for the mechanical safety, when for instance the cabinet is made of a soft material in which the screws may have a poor grip.
We can also put the 3 holes close to those already there, to make them as 3 pairs.